Your child's Social Security number (SSN) is their most important identifier, which makes it a target of identity thieves. You should do everything in your power to protect your child's identity, so you may wonder how to put a PIN on your child's Social Security number.
The problem is, there's no direct way to lock the SSN itself. This guide will show you some useful alternatives for keeping your child's SSN and identity secure.
The Importance of Safeguarding Your Child's SSN
Identity theft has been running rampant for a long time now, and children need extra protection. This is because their identities typically aren't monitored, so they're seen as a clean slate for fraudsters who use them in two ways:
Impersonating the child
Combining their SSN with fake information to create a so-called synthetic identity
Regardless of the type of identity theft, the victim might suffer numerous long-term consequences. Children's identities have been abused for numerous malicious purposes, from evading the law after severe crimes to committing credit or tax fraud. This results in a myriad of issues tied to the child's identity, which can take years to clear up.
That's why it's best to be proactive when it comes to ID security. Luckily, there are several options at parents' disposal. Before you explore them, though, you should confirm that the child's SSN hasn't been compromised already.
How To Make Sure Your Kid's Social Security Number Has Not Been Used
If you need to check for SSN misuse, your first stop should be the Social Security Administration (SSA). You can contact them by phone at 1 (800) 772-1213 and inquire about your child's number.
The SSA doesn't address all the ways someone can use the child's number, so you'll also want to contact the three major consumer credit bureaus:
The reason you should contact credit bureaus is to check if your child has a credit profile. If they don't have a legitimate credit history—which is the case with the vast majority of minors—a credit profile shouldn't exist. If it does, it might mean that someone else has already used the child's SSN to obtain fraudulent loans.
Once you've confirmed that your child's number is clean, it's time to take the necessary precautions to protect it.
How To Secure a Kid's Identity and Social Security Number
As mentioned, there's no way to put a PIN on your child's SSN. You can use the following four measures as alternatives:
Get an Identity Protection (IP) PIN
Block electronic access to the SSN
Secure the child's Social Security card
Sign your child up for SSN and identity monitoring
What Is an Identity Protection PIN for Kids?
An IP PIN is an effective security layer if you want to prevent someone from filing tax returns using your child's information. You can get it from the IRS for yourself, as well as for your spouse and dependents.
If you have an IRS.gov account, you can request the PIN through the dedicated online tool. You'll need to verify your identity and do the same for your child to get a PIN for them.
If you can't complete the process online, you might be able to apply for a PIN using Form 15227. You can also apply in person by visiting a Taxpayer Assistance Center near you.
The PIN will be valid for a year, and the IRS will issue a new one annually. You'll need to provide the PIN when filing taxes for your dependent child, so make sure not to forget it.
How To Block a Kid's Social Security Number
An SSN block means that nobody—including the holder—can change any information in the holder's Social Security file electronically. If your child is old enough to reach out to the SSA and verify their identity, they can call the aforementioned number and request it. Otherwise, you can contact the SSA and see if you can do it for them.
If your child decides to lift the block at some point in the future, they can do it via phone the same way it was requested.
How To Protect Your Child's SSN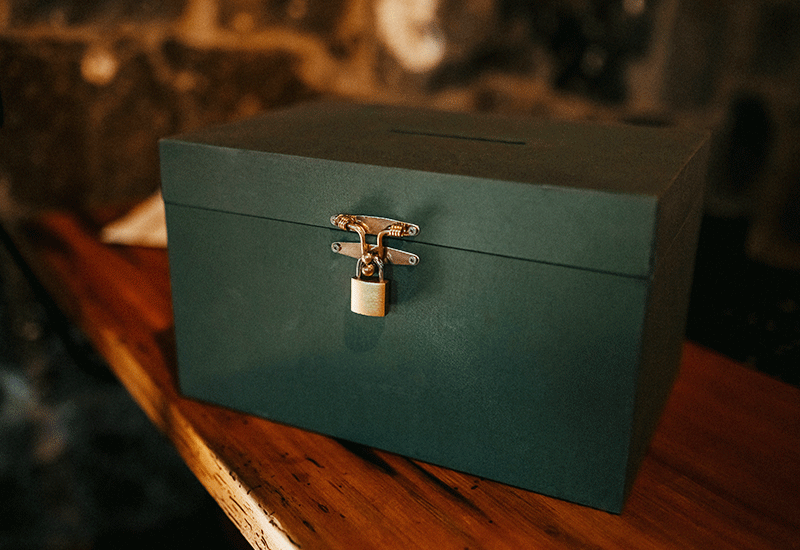 A Social Security card isn't a document your child needs frequently, so there's no need to carry it around. As soon as you receive the card, store it somewhere nobody can find it—including your child until they're mature and responsible enough to protect it.
Teach your child to keep their SSN a secret. The few instances when they might need to reveal it include:
Applying for government benefits
Seeking medical care
Obtaining loans
Filing tax returns
None of this will likely happen before your child has grown up, so make sure they understand the importance of SSN protection by the time they become independent.
Until then, you'll likely apply for different services in their name, so be careful when you notice a request for the SSN. Confirm that it's truly needed and no other identifier can be used, and ask how the number will be kept safe.
Why Professional Identity Monitoring Services Are a Wise Investment
Most SSN protection measures are either quite restrictive or involve lots of ongoing work. If you decide to do it on your own, you might realize it's quite overwhelming and time-consuming.
The good news is that you don't need to be on constant alert for SSN or identity theft. If you opt for an identity monitoring service, you can have your child's SSN and other personally identifiable information (PII) professionally monitored.
Such services typically give you access to numerous resources you may not be able to access on your own. They can provide some much-needed peace of mind and be an excellent alternative to blocking your child's SSN entirely.
Better yet, you can find ID monitoring services that won't hurt your budget through annoying monthly fees.
Why Pay for Identity Protection?
Paying a monthly subscription or a high annual fee for identity protection is expensive and can add up to thousands of dollars. That's why Austin Capital Bank offers FreeKick.
With FreeKick, you can keep the money you save for your children and protect them at the same time.
You can save over $10,000 during your children's childhood with family identity protection from FreeKick:
| | | | |
| --- | --- | --- | --- |
| Cost Details | FreeKick1 | FreeKick1 | LifeLock2 |
| FDIC-insured deposit | $3,000 | $10 | $0 |
| Cost per year | $0 | $149 | $600 |
| Annual savings | $600 | $451 | |
| Savings over 18 years | $10,800 | $8,118 | |
1 FreeKick plans cover two parents and up to six children
2 LifeLock Advantage Family plan for two parents and up to five children. The annual plan is $599.99, and the monthly plan is $59.99/mo, $719.88 for 12 months
FreeKick—Robust Identity Monitoring and Credit Building
FreeKick was created by Austin Capital Bank to help parents safeguard their children's identities and let them build a more secure future.
This unique product combines a Federal Deposit Insurance Corporation-insured (FDIC-insured) deposit account with identity monitoring (for children and parents) and parent-sponsored credit building (for teens and young adults aged 14–25).
SSN Monitoring and Other Security Services (Coming Soon)
If you need help securing your child's SSN, FreeKick's Social Security number monitoring service can be highly beneficial. It tracks all names, addresses, and aliases connected to your child's SSN to stay on the lookout for signs of synthetic and true-name identity theft. You also get a mapped view with the locations of all identities associated with the SSN.
FreeKick provides identity protection for both minors and adult children and parents. Every FreeKick plan includes identity protection for up to two adult parents and six minor or adult children—here are all the services these plans include:
ID Protection Services for Minors
ID Protection Services for Adult Children and Parents
Credit profile monitoring
Social Security number monitoring
Dark web monitoring for child's personal information
Up to $1 million identity theft insurance
Full-service white-glove concierge credit restoration
Sex offender monitoring—based on sponsor parent's address
Credit profile monitoring
Social Security number monitoring
Dark web monitoring for personal information
Up to $1 million identity theft insurance
Full-service white-glove concierge credit restoration
Lost wallet protection
Court records monitoring
Change of address monitoring
Non-Credit (Payday) loan monitoring
Free FICO® Score monthly
FICO® Score factors
Experian credit report monthly
Credit Building and Credit Profile Monitoring (Coming Soon)
Good credit can save your child more than $200,000 over their lifetime. FreeKick doesn't just protect your children's credit, it builds it. Every FreeKick plan includes safe and reliable credit building for up to six children aged 14 to 25.
Getting started is easy—as a parent, you just need to select Activate Credit Building in your account dashboard. When your child becomes a legal adult (18 in most states), they just have to go through an additional step, which is activating credit reporting by choosing the Activate Credit Reporting option on the dashboard. Once this step is completed, a credit account for $1,000 will be reported to all three major consumer credit bureaus (Equifax, Experian, and TransUnion). It will also include the:
Account opening date
Amount of credit
Type of credit
Last 24 months of payment history
Note that FreeKick does not impact a parent's credit report or score.
You can cancel your FreeKick account at any point without penalties. When you do, credit building and all monitoring services will cease immediately. Due to the credit bureaus' restrictions, no credit can be reported for the account if the child is a minor at the moment of closure. For more information, check out FreeKick FAQs.
Plans Designed To Fit Your Budget
Another great thing about FreeKick is that it offers a plan for every budget—you can use the savings you already have to protect your children and build their credit, or get started with just a $10 deposit and a small annual fee.
All FreeKick plans include:
Premium identity protection for two parents and up to six children
Credit building for up to six children aged 14 to 25
The following table shows the cost of each FreeKick plan:
| | |
| --- | --- |
| Deposit | Annual Fee |
| $3,000 | $0 (Free) |
| $2,000 | $49 |
| $1,000 | $99 |
| $10 | $149 |
FreeKick deposits are FDIC-insured up to $250,000.Reduce the risk of identity theft and help your child enjoy a brighter future—sign up for FreeKick today.